The Department of Health (DOH), Division of Family Health Services oversees the administration of two projects that are coordinating work to improve school health. This month features the work being accomplished by Community Health and Wellness Services, with the funding support of a CDC 1305 cooperative agreement. Next month will feature the school health project administered by the Child and Adolescent Health Program, with funding support from a federal Block Grant.
The CDC school health project implements strategies focused on policy and environmental changes in schools. CDC funding supports two grantees through June 30, 2018: 1) YMCA State Alliance and 2) NJ Association of Health, Physical Education, Recreation and Dance (NJAHPERD). These grantees train and provide technical assistance (TA) to staff and students in five low income school districts: Atlantic City, Millville, West New York, Elizabeth and Irvington. Additional key state partners are the Departments of Education (DOE), Agriculture (NJDA) and Transportation's (DOT) Safe Routes to School program.
Grantee Activities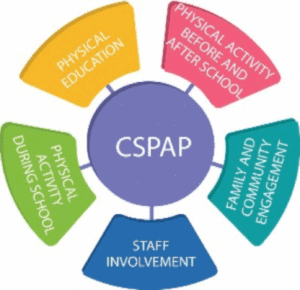 NJAHPERD coordinates with NJ School Nutrition Association to conduct professional development (PD) with K-12 school staff to promote, support and increase the number of schools that: 1) implement Comprehensive Physical Activity Programs (CSPAP); 2) provide healthy school nutrition environments by ensuring the adoption of food service guidelines and nutrition standards that align with the Healthy Hunger Free Kids Act (HHKFA) of 2010; and, 3) promote and create a local school wellness policy for their district.
In 2016, NJAHPERD reached 287 school districts and in 2017, NJAHPERD anticipates increasing its reach to 425. By the end of the CDC 1305 cooperative agreement in 2018, 43 schools (40 K-8 schools and 3 high schools) in the five low income school districts will have been impacted.
The New Jersey State Alliance of the YMCAs (Y Alliance) Facilitators work with School Wellness Councils to provide evidence based environmental and policy changes designed to improve and sustain healthy school environments to enhance student learning.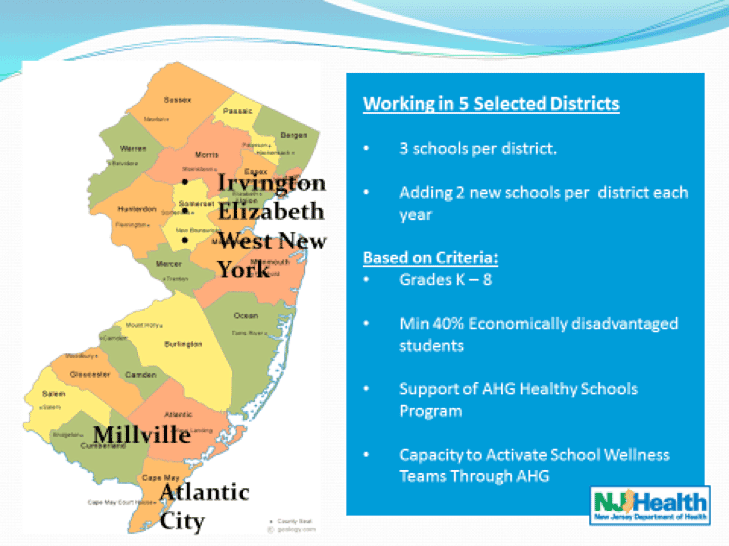 Local Y Facilitators work with the School Wellness Teams to conduct an assessment and to develop and implement an action plan using the CDC School Health Index. These teams meet at least once per marking period. Progress on the action plan is reported at Board of Education and PTA meetings; back-to-school and fall kick-off/re-commitment and spring family event nights as well as article postings in the school newsletter or website. Ongoing TA along with a small stipend is provided to School Wellness Teams to strengthen and institutionalize the school level policy changes. Professional Development for PE teachers, appropriate School Wellness Team members, and Y Facilitators is required.

State funding supports one school-based youth coordinator position in the HealthCorps high school sites of West New York, Elizabeth and Millville, also working sites of the
Y Alliance. HealthCorps Coordinators work to:
• Mentor students in health, fitness and mental resilience.
• Create and Support School Wellness Councils
• Become an Alliance for a Healthier Generation Healthy School
• Undertake environmental projects such as school gardens
• Implement health promotion events, staff challenges, cooking contests
• Partner with other non-profit agencies, community and sports teams
DOH oversight of grantee activities ensures that all grantee work is aligned and coordinated to avoid duplication of effort and to increase effectiveness.
Next Steps and Sustainability
The Community Health and Wellness Services CDC 1305 School Health project will continue to focus on policy and environmental change in Atlantic City, Millville, West New York, Elizabeth and Irvington. Through the establishment strategic partnerships, the work efforts in these five school districts can be expanded. WellSAT, a policy evaluation tool, will be added as a reporting mechanism for use by schools working with DOH. A webinar is under development and will be widely announced, to assist schools in implementing the school wellness policy requirements of the Healthy, Hunger-Free Kids Act of 2010. For questions about this project, contact Sheila.Dunn@doh.nj.gov.